BAD WEATHER GUARANTEE
Rainy days are FREE with our money-back guarantee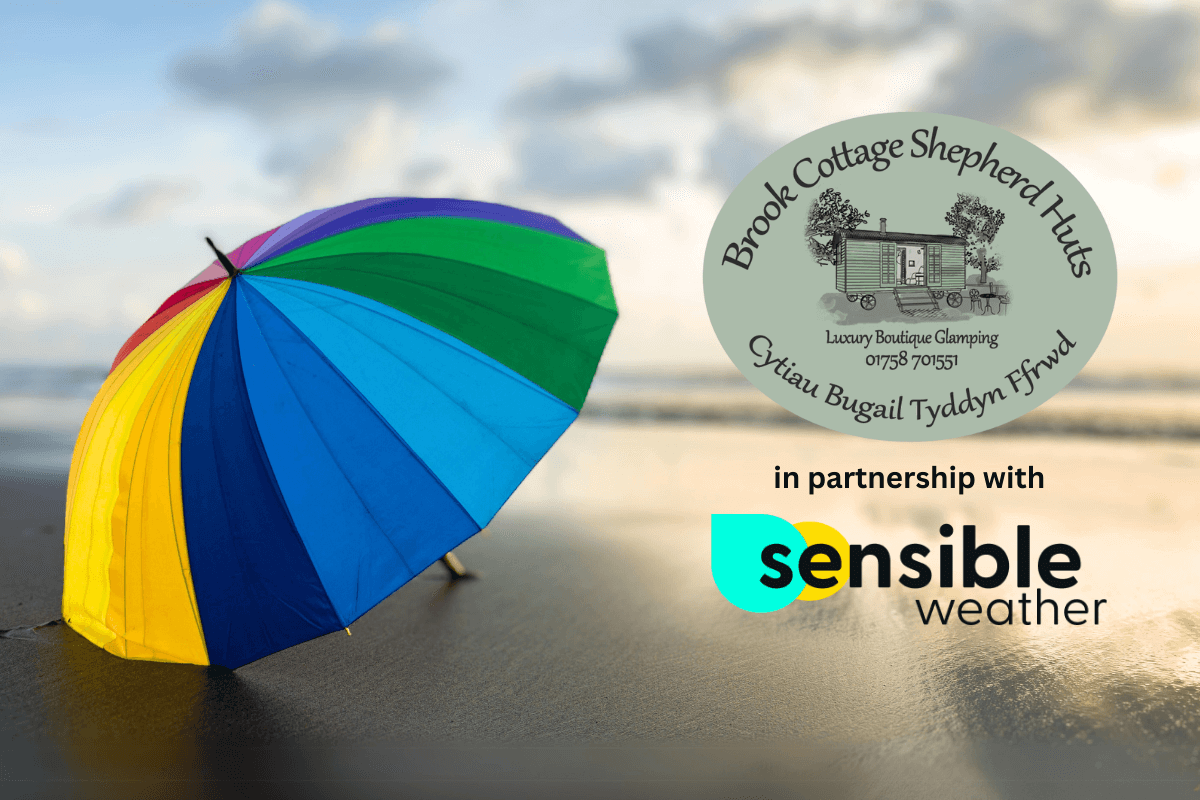 Come rain or shine we guarantee you'll have the very best time.
Brook Cottage Shepherd Huts is proud to partner with Sensible Weather, providing a unique weather guarantee that gives you money back if you experience poor weather during your stay.
Using a lot of science and a sprinkle of magic, Sensible watch the weather using their clever tech and automatically reimburse you if it's going to rain that day, leaving you free to enjoy your break.
NO CANCELLATION. NO CLAIMS. NO HASSLE.
REALLY? HOW DOES THAT WORK?
To find out more CLICK HERE
We've made it really simple and easy

1. Book your break
Once you've booked your stay and paid in full you will get a confirmation email. 

2. Add the Weather Guarantee
In your confirmation email will be a link, simply click that, which will take you through to add your weather guarantee. Complete your details and voila, you're covered!

3. How do I make a claim?
The simple answer is, you don't! Sensible Weather use their clever tech to monitor the forecast and will automatically contact you by text / email if there is rain forecast for that day. You don't have to do a thing, except enjoy your break.

4. How do I get money back?
Your payout will be automatically sent via PayPal, which keeps it safe and secure and means there is no need for you to share your bank details with anyone. No PayPal account? No problem. Just follow the link in the reimbursement email and you can get set up quickly and easily… and it's completely free.

5. Sit back and relax, we've got you covered
A Weather Guarantee covers every day of your trip, so you can be reimbursed for one or more rainy days and still enjoy your break. If it rains each day during your booked trip, you'll be reimbursed for the whole trip, effectively meaning you get a FREE holiday!*

6. How much will the weather guarantee cost?
This is worked out based on the specifics of your trip, but as a guide it is approx 8-10% of the total costs.

Sensible Weather is an innovative US tech company who love the weather as much as we do here in the UK!

If you'd still like to find out more about Sensible Weather, please CLICK HERE

(* minus guarantee fees)

CLOSE
Our Weather Guarantee gives you complete confidence to book your stay now
safe in the knowledge you'll have a great time whatever the weather.

We'd love to hear from you!
Just drop us a line and we'll get back to you asap - many thanks
Brook Cottage Shepherd Huts, Yr Erw, Y Ffor, Pwllheli, Gwynedd, LL53 6RR